In honor of Breast Cancer Awareness Month, we published Part 1 of Jenn's breast cancer journey over a year ago when she first came to terms with sharing her story on a public forum. Ever since her story appeared on RedLily®, we've seen her replace sadness and unknowing with positivity and inspiration. We are so proud of everything that this incredible wife and mother of two has gone through to get here today. Jenn is a force to be reckoned with—a motivational queen who has overcome her cancer battle with elegance, grace and beauty.
If you like this story, please take the time to read Jenn's first published piece about her deadly diagnosis and dealing with depression, and the fear of sharing her health journey on a global platform. Talk about perseverance and purpose. Thank you, Jenn. 
Kerrie-Lee Brown,
Founder & Publisher of RedLily® 
xo
"Looking Forward to the End of My Cancer Journey"
Life was as good as it could be during a pandemic. The boys and I were taking advantage of long weekends at our cottage, my online business was going well, and my body was slowly continuing to heal from a year of treatments during my cancer journey. My mammogram was postponed due to Covid-19 but fortunately my Herceptin treatments continued every 3 weeks as a measure to kill off any future cancerous cells. Life was close to being back to normal; and I was hoping this is the end of my cancer journey.
I would take on cancer again if I never had to be depressed another day.
Then, in June 2020, I was getting a little frustrated at the lack of energy, overall strength, and the constant body aches I was experiencing, however, I knew I would be seeing my Oncologist soon and my mammogram was re-booked.
For those of you who read my first story on RedLily®, you might remember how much I enjoyed getting mammograms – NOT. However, after 2 lumpectomies, 5 months of chemo, and 33 radiation sessions, my skin was so damaged that once the technician had me in the vice, the pain overtook me and I fainted. I woke, sitting on a chair, with a cold press on my forehead and wearing only my pants – NICE!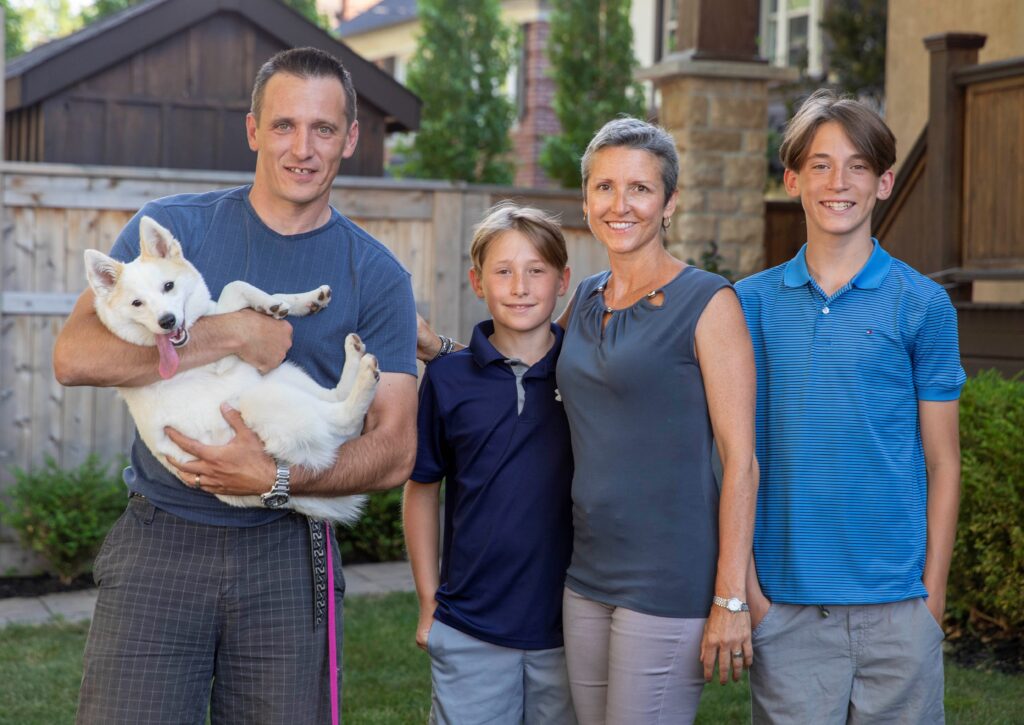 We continued to the other breast and I sheepishly got dressed. Two days later, I was booked in for an ultrasound, yet I was not worried since the technician explained that she likely could not get the proper images. The ultrasound was taking a lot longer than usual. Then she got up, so I thought we were done and I reached for my clothes. To my dismay, she explained that she was going to bring a doctor in and to stay undressed.
My heart sank, I felt sick to my stomach, and I could feel my body temperature rise. The doctor took several new images and then stood up. He said there was a mass and he would like to find a room immediately to do a biopsy…
I did not fair well with my biopsy a year earlier, so he could see the fear on my face. I explained that I had come alone and had walked, so I did not feel comfortable doing the procedure that day. So, it was booked for a week later and my husband was with me. The doctor put me at ease and had a cold compress on hand—and let me listen to music during the procedure.
When looking at the images and hearing what I had been through over the last year, the doctor said that he was surprised they had booked a biopsy—and that it was likely only scar tissue. As per the prodigal, I was given my appointment with a surgeon for 2 weeks later.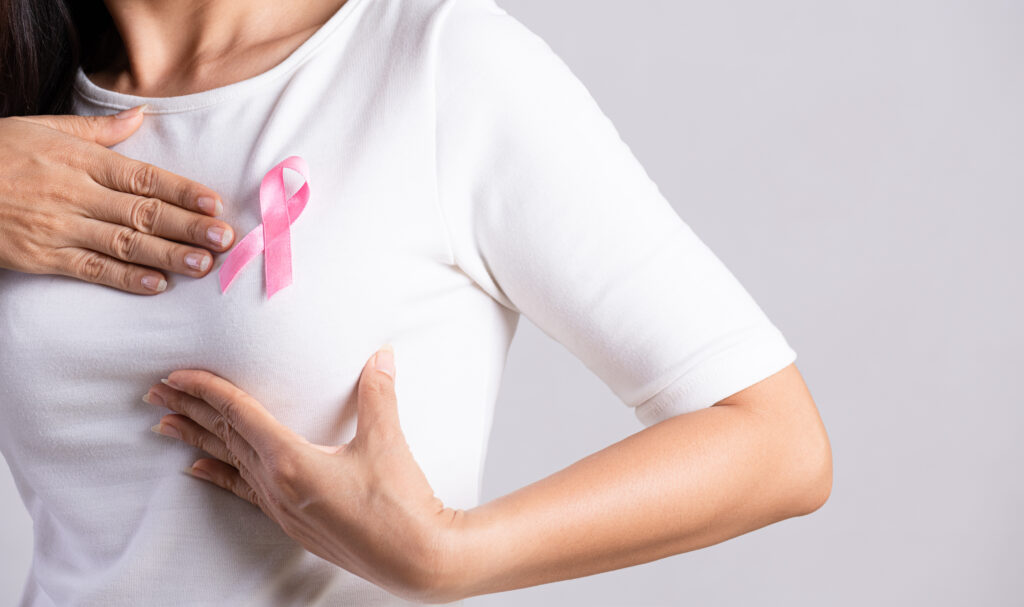 Another unwanted cancer journey
One week later, I had my Herceptin treatment and my regular Oncologist appointment. He asked me how I was feeling, so I smiled and told him: mentally great, however, my body felt like I was 80 years old. I joked and asked whether he had heard that I fainted during my last mammogram and that I was given juice and cookies after my biopsy.
Very casually, I asked if he had gotten the results, never thinking that he would have them already. He looked at me, paused and said "yes" and the results came back positive. Without thinking I asked, "Positive is a good thing, right?" He said, "Positive that the tumour is cancerous."
It was as if he was speaking another language. I could not understand and then the fear set in. I asked him if that was why I had been feeling exhausted, experiencing pain in my muscles and bones, and my feet ached daily. He said yes.
The worse part was that I had come to this appointment alone and I still had to sit for my two-hour Herceptin treatment. Once I was hooked up to the IV, the news really sunk in and I started to cry. I phoned my husband right away and sister-in-law but did not have the strength to call my parents. Within 10 days, I was booked for an MRI, bone and CAT scan, and had an appointment with my surgeon a week later.

Deciding to have a double mastectomy
I had already mentally prepared myself for the decision to have a double mastectomy—even though all the tumours were on the left side. I didn't want to go through this experience again! Sadly, my husband had not emotionally accepted the reality of all of this. My surgeon understood me wanting a double mastectomy, however, he wanted to "treat the cancer first" and he suggested doing one at a time. The doctor booked me for surgery a week later.
This was not the summer I was expecting, however, I just wanted all of this behind me. I became more adamant that I wanted them both done at once. This was already my third surgery, so why would I want to go through this twice? When I called my surgeon about my decision, he explained that the time allotted was not long enough to do both. Next, my surgery date was cancelled with no reschedule date booked.
I felt deflated, I had prepared myself for the surgery, made plans to recover up at the cottage with my neighbours and friends—and now I was in limbo.
After spending Canada Day up north, which was an extremely humid weekend—I changed my viewpoint and saw the positive side of having my surgery later in the summer. This way, I could enjoy the summer, swim, play sports, and enjoy boating. Then on July 7th , I received a call from my plastic surgeon who said there was a cancellation and that she was given an operating slot for the next week.
Surgery scheduled on my birthday
The roller coaster of emotions fled through me. I had accepted that I was not having my surgery and focused on having a great summer—and then all of a sudden I am booked to get a double mastectomy the next week on my 45th birthday.
Over the next six days, I tried to get meals organized, gave the house a deep cleaning, bought shirts that had sippers or buttons all down the front and fit in a physical, Covid-19 test, and pre-op appt. I was ready for whatever was to come.
Fortunately, the surgery went well and the nurses were willing to sneak my husband up for a visit (visitors were not allowed during the pandemic at the time). After all, it was my birthday. Two days later, I came home and my recovery began. Upon arriving at home, I was greeted with flowers, gift bags, and some home-cooked meals from family and friends. My recovery was going well, and a week later I had my follow-up appointment with my Oncologist and another Herceptin treatment.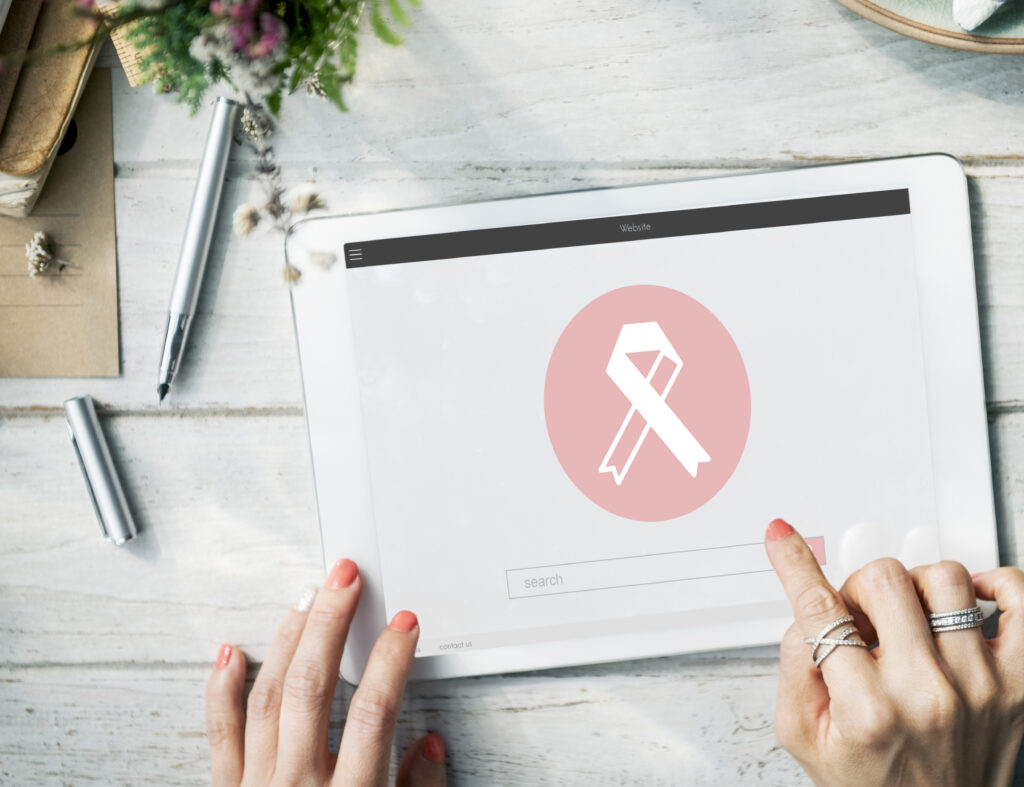 Next steps after surgery
My husband was hoping the doctor could give us an explanation on how another tumour was found so soon after my extensive chemo and radiation treatment. In addition to still being on Herceptin IV treatments, which was supposed to attack future cancerous cells. Sadly, he could not explain it, and instead recommended that I have a hysterectomy. I was seven days out from a double mastectomy, and the doctor was already talking about another invasive surgery. Apparently, breast cancer can spread (fast) and it is common to spread to female organs.
How the summer ended
I left with a referral for a Gynecologist, but the news did not drag us down. We had a great summer with weekends and our vacation spent at the cottage. We also continued to look forward to hockey and school starting up again for our sons. Slowly, I was also adding weight workouts back into my routine and started accepting my new body; despite the newfound limitations.
My hysterectomy was booked for November 19, 2020 and I could feel my anxiety rising. Another invasive surgery was on the horizon. I wasn't able to see family and friends due to Covid-19; and we were heading into the colder months. I had no idea how quickly I would recovery from my 4th surgery in 18 months—and this was negatively influencing my moods.
Thankfully, my surgery went well. My parents and sister-in-law came for a visit over the weekend and stocked my fridge. They could tell that I wasn't myself and kept in close contact the whole time to show their ongoing support. Needless to say, it was an isolating two months, and for the third year in a row, I was not looking forward to Christmas.
Healing started again
Fortunately, I started to feel both mentally and physically better in late January, and was able to focus again on my business. My days were spent researching the links between cancer and depression to the foods and products that we consume. I also started networking to build my sales and team. The more people I met, the more resources, articles, and medical journals I was discovering—and the findings were alarming.
Did you know?
There is evidence out there proving that chemicals and toxins found in household products, as well as sugars, canned goods, and processed foods can be linked to breast cancer, depression, heart disease, and other ailments?
These findings brought several emotions to the forefront. I was very frustrated that there was no law prohibiting dangerous ingredients in these products, and I was annoyed that many natural products and healthy food choices are out of reach for many due to the high costs.
Doing her research
I did my research and spoke to many experts and came to the same conclusion—it just does not feel right that people with lower incomes cannot afford safe and healthy choices for themselves and their families.
Then, I discovered an online wellness company that offers natural household products at 30-50% less. The best way to describe them is a combination of Whole Foods quality, Walmart prices, and Amazon convenience. The products are amazing, so it became quite clear that I should be a part of this company.
Today, after all that I have gone through with my recovery, plus my newfound knowledge of what's healthy and what's not—my passion to have a holistic household and educate as many people as possible about the harmful ingredients in our household products. At the same time, I want to share safer and affordable options to families.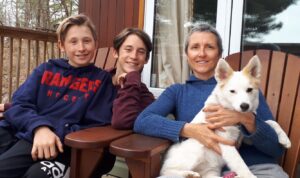 Soon after joining their team, I was diagnosed with Osteoporosis in April 2021, which is common for breast cancer patients and women who are prematurely forced into menopause. After sharing this with my teammates, they reminded me of the Peak Performance Joint & Bones packs that include Calcium, Vitamin D/B, and Glucosamine; all of which can help improve bone strength and reduce body aches. Everything that I experience daily.
So, I placed my order on the spot and am hopeful that if my bone density numbers improve, I will not need to have a bi-annual IV treatment to strengthen my bones for the rest of my life. To end, I'd like to say thank you for allowing me to share the second part of my story. Let's hope this is the LAST diagnosis I have to share with readers. Because I hope to live a long and healthy life!
About the Author:
Jenn Smrz is a mother of two active hockey boys, food lover, and first-time writer who has battled both depression and breast cancer—and come out stronger than ever! To contact Jenn directly, visit: jennsmrz.neora.com or Facebook at https://www.facebook.com/jennifer.smrz.7
Read the first part of her story on RedLilyLife.com.
~~~~~
Have you got an inspiring story? Write to us and help others as they reflect on their own journey. The more we can share, the better. The more we can inspire, the more we will heal ourselves and others.