One of the biggest reasons I created this non-traditional publishing platform was to provide a safe space for women to share their personal stories, trials and tribulations, ups and downs, struggles and triumphs—as well as their happy memories as they experience life and those they love. Our latest submission, written by a daughter who misses her father tremendously, has touched my heart immensely. RedLily® contributor Kerry Davis shares a sweet tribute to her dear father who battled Alzheimer's for 12+ years.
To commemorate just over three years since her Dad's passing, Kerry wanted her love for him to "shine bright" so those closest to her would be moved by her precious words and share in the memories. Ultimately, his memory will be forever etched in her heart and the hearts of those who knew him well. Kerry's story is a true testament to how a sacred bond between father and daughter can grow even closer after a loved one is gone. 
I am so grateful to Kerry for sharing a glimpse of their close relationship in "He Knows Me By Heart." I have to admit, this is one of those heartfelt reflections that makes me feel like my mandate for RedLily® is being met. Thank you. 
I hope you enjoy,
Kerrie – RedLily® founder
XO
P.S. Before you read this reflection, I wanted to give our new writer's words a little bit of context so I asked her how her piece came together—and she graciously shared with me why writing this piece was one of the best ways to honor her father's legacy and love. 
"At this point, I feel that I have moved through my grief and am in a different place in missing him now, but I didn't know what I wanted to do. One night I was standing in my closet and this just came to me. That has never happened before so I ran down to my office and put it on paper. My family was waiting for me to watch a movie and kept calling to me to come and watch with them but I kept responding, 'I can't! I can't stop!' It only took about 15 minutes to write. I'm sure my dad was sitting in my office with me every moment. He was a serious business executive but wrote poetry and was an incredible writer…

Ultimately, I wrote this because I was struggling a bit with how I wanted to recognize my dad's passing on the 15th. It was a tough journey for him and our family but there were bright spots, which I hope this piece of writing reflects. People would always ask me if he still knew my name to which I would reply, 'No but he knows me by heart.' He was a very loving, encouraging and supportive dad and I miss him dearly."

– Kerry Davis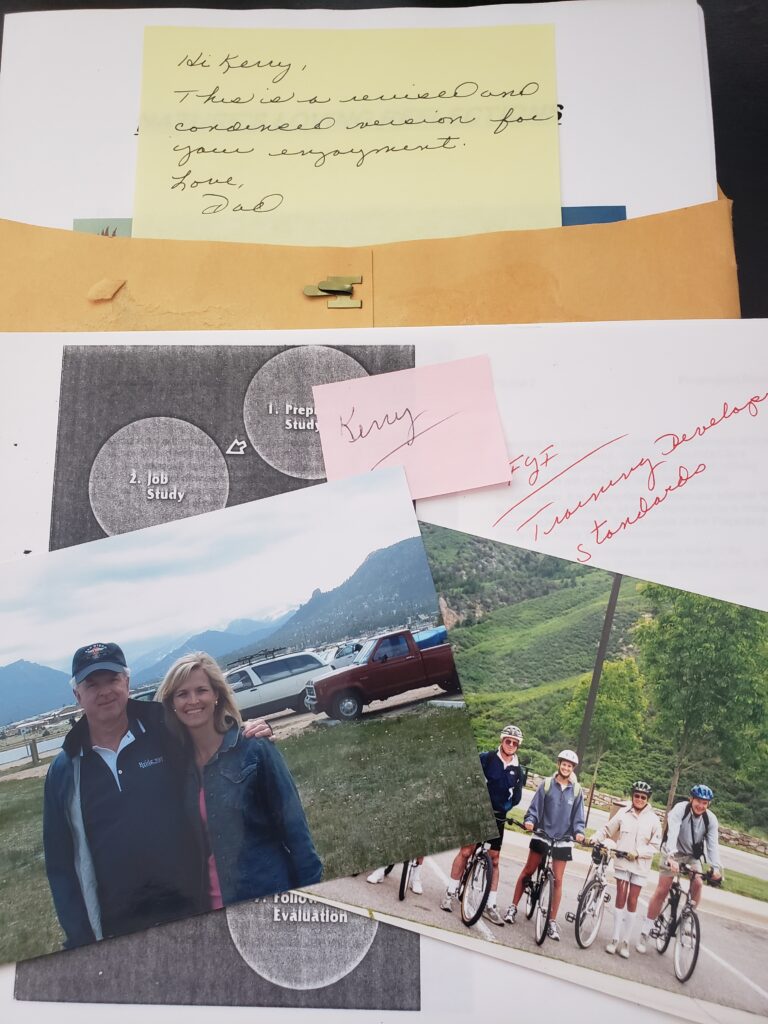 "He Knows Me By Heart"
By Kerry Davis
If you were here today… You would throw open the door and greet me with a huge smile and say, "Hi, dear daughter!"
If you were here today… We would sit at the kitchen table, you'd be drinking an enormous glass of ice water, you'd pat my hand and ask, "How's everything in your world, dear daughter?"
If you were here today… After talking with me for a while, you would head outside to check my car to make sure there's enough air in my tires, or does it need a good wash? You might also go as far as popping the hood to check the fluids.
Thank you, Dad, for always wanting me to be safe in my car and during my travels.
Personal Memories
If you were here today… You would take my hand and lead me to your office, "Come with me. I want to show you something." It might be your latest read on leadership, handling conflict, poetry, or U.S. History. You might also show me old family pictures or give me another manilla envelop filled with business insights or strategies for living a balance life. We'd surely stop and enjoy your pictures and accolades on the wall from your time in the Air Force and I wouldn't get out of the door without you reminding me again of the 7 Ps of Success…Prior Proper Planning Prevents Piss Poor Performance.
If you were here today… You would be scouting locations out back to hide Easter Eggs for the big hunt. You'd be sweeping out the garage, doing yard work, or climbing on your bike to take a long ride.
Thank you, Dad, for working hard and playing hard.
Love & Light
If you were here today… You would hide the Blarney Stone in my purse to keep our long running game going.
If you were here today… Music would be playing. Marty Robins, John Denver, or Alabama. We all know the words. You would pull Mom up out of her chair and take her for a swing around the room. How I loved to watch the two of you dance together.
If you were here today… And if it was a Sunday, we would be in the car taking a drive, destination unknown, but you can bet it would include a picnic and the mountains where we would sit on a rock, watch the clouds meander across the sky in their own sweet time and listen to the wind rushing through the pines. You would show me various kinds of rocks or give me a compass course to follow. Being in nature was your second home—maybe even your first.
Thank you, Dad, for nurturing in me the love of nature.
Care & Compassion
If you were here today… You would ask if I could stay for dinner or better yet, "just stay for the night and head back in the morning! We'll barbeque and sit outside." I would love nothing more, Dad, than one more night.
If you were here today… And it was time for me to leave, you would walk me to my car, hug me and say, "Thanks for coming up, it's always good to see you, dear daughter. I'm sure proud of you and love you a whole lot." Then you would tell me the best way to drive home and to watch out for "all those crazy drivers!" You'd stand on the driveway keeping me in your sights until I turned the corner.
If you were here today… You would call me at home just to say hello and check in on my family, and before hanging up, you'd let me know that stormy weather is in the forecast so "keep an eye on the sky."
Thank you, Dad, for always being my protector.
A Special Bond
These are my memories of the days long ago. However, the recent days were not as carefree.
If you were here in the recent days… You would still greet me with a kiss and hug but then ask me my name. I would take your hand and gently say, "Kerry, your daughter."
If you were here in the recent days… You would look out front and ask whose car was in the driveway. I'd tell you it was mine and you'd ask, "Do you know how to drive it?" "Yes." I'd reply. "How do you know?" you would ask. "You taught me." I would say with a smile and then you would smile.
If you were here in the recent days… We would still climb the stairs to your office. I'd point out your pictures and accolades from your time in the Air Force, pull out one of your favorite books, and sometimes, you would remember to tell me the 7 Ps of Success.
Reminiscing about days gone by
If you were here in the recent days… We would sit close together on the couch, you holding my hand quietly, listening to your favorite songs by Marty Robins, John Denver, and Alabama.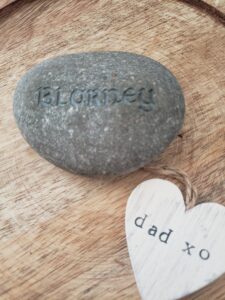 If you were here in the recent days…We would be celebrating my birthday together and you would look at the cake decorated with candles and ask, "Why is there a cake here?" Mom would say "Because it's Kerry's birthday!" You'd turn to me, "How old are you?"
"I'm 44." You'd sit there quietly and then, this is what you said, "I remember that day. I was proud of that day. I'm always proud of you, dear daughter." And, I would say, "I'm proud to be your daughter, too."
Every day you are with me, dear Dad. In those more recent days, you may not have known my name, my car, or how old I was, but you always knew me by heart.
Thank you for everything, Dad.
Kerry
XO
About the Author:
Kerry Davis is a fun loving, fifty something, first-time writer who is fuelled by soulful fire and presently chasing down new goals, grabbing joy and loving fully without anyone's permission. To contact Kerry directly, connect with her on Instagram @kerryobriendavis and on Facebook.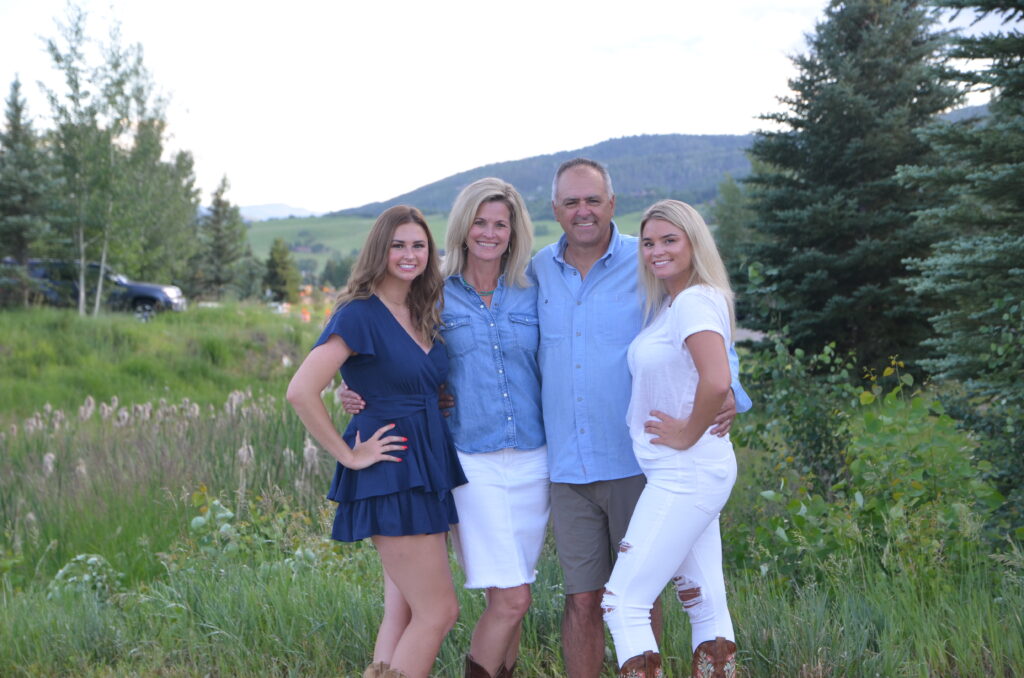 Editor's note: To my knowledge, there isn't a content-driven "vessel" out there where the information you read resonates on a deep, genuine level—so much so that it can actually change the way you continue to live your life. RedLily® is unique in that it makes you "do something" after you read a story or published article, either literally or figuratively, and that has always been my intention.
Whether you're dealing with a current situation and want to get your feelings out there because it's therapeutic to tell your story—or you are past the "hurt" stage but still learning how to cope—the hope is that you end up taking action in some way. No matter who you are or where you come from, I genuinely hope RedLily helps shine a bright light on your personal journey so others can grow and heal from your story too. – Kerrie Lee Brown
Have you got an inspiring story? Write to us and help others as they reflect on their own journey. The more we can share, the better. The more we can inspire, the more we will heal ourselves and others.