Some stories are so moving that they don't just make an impact, they start a movement. Despite her ongoing battle with breast cancer, Silvana Vukadin-Hoitt has made it her mission to educate others with a unique photography project that reveals the realities of living with breast cancer. It's incredibly intimate—and nothing short of stunning.
"Living Boldly With Breast Cancer"
In March of 2017, I was diagnosed with triple negative breast cancer, and of course, the news was as shocking as it was devastating. Although I was lucky to have family support, as well as insurance coverage, the constant treatments and mind-bending life adjustments occupied my very existence. I am now living with breast cancer, so figuring out a way to stay strong and present was (and still is) paramount to fighting the disease.
Since I was never a big joiner, my instinct was to stay to myself rather than attend Breast Cancer Survivor groups. Like most of us though, eventually I needed an outlet for all the emotions that came with this life-threatening illness besieged my body.
As chemotherapy treatment began, I started taking pictures, spontaneously at first. Mostly as a way to record my experiences quickly. A snapshot of a moment I'd want to document; and maybe to contemplate later. It's what I would naturally do as an artist anyways, for work or fun.
Being integrated in a digital world, documenting daily life, is a natural thing to do. So, I decided to file my "progress images" in a private Instagram account. I knew this was a safe space to capture my cancer-related pictures without worrying about how others perceived me.
Then one thing led to another, and I started adding commentary about my feelings and thoughts.
Living with breast cancer
As anyone can imagine, getting a breast cancer diagnosis irreversibly alters a woman's life. It is a brutal disease and the journey is hard and unpleasant. Understanding that I was literally losing parts of myself every day, propelled me to record my rapidly changing state.
It was all happening so quickly and I felt an immediate need to capture everything as the effects of the disease were literally changing my life.
At some point, I realized that those images made the stages of illness and the treatments hyper-real to me. Feeling my emotions on the inside, and then actually seeing myself on the outside in pictures (some staged, but mostly spontaneous) became markers to remember a particular harsh moment. The snapshots became representations of who I was becoming. A legacy of sorts—from my old body to my new.
I guess as I reflect now, I was searching for meaning in a suddenly scary world; so I subconsciously set up a space of acceptance that was necessary in the moment; and for others living with breast cancer.
These photos eventually became a way to transcend into hope for tomorrow.
Inadvertently, I had created a place of rumination—almost like a devotional site that I would go to every day. A place that was, yes, all about me. The photos became an intimate and immediate way to hold on to the person everyone knew; the woman I believed I was.
With every passing day, new layers unfolded. Dealing with the sickness weighed on me. Even with hundreds of trips to the hospital, each day I had to figure out how to live a normal life. I knew I was also blessed to have undeniable emotional support from immediate family, and a small, spiritual community. They helped strengthen my resolve, and on a cellular level, to stay my best, healthful self.
At the same time, the act of recording, creating scenes and moods, helped divert the terror—even if just for a few hours. This became a ritual of sorts and I found it held great meaning for me.
Soon, my passion went from simple documentation on social media to a revelation. This energy needed to be housed into an artistic project. Additionally, it became therapeutic.
Somehow, in my mind, the photos became a shield that energetically protected me from my passing. I was director, actor, and audience all in one. The story: My life.
What I didn't know, however, is that this space would ultimately transform me. Birth a new, stronger version of what I had yet to become. My secret IG account became a living shrine to my pain, my fear, and the small successes.  It was glorious!
Transformative art can help connect women to the sacred within, which can often help alleviate fear and trauma.
Transformative art is as intimate as it gets. It, can serve as a ritual or help connect us to the sacred, if we so choose. It has certainly moved me and it will move you too, if you let it.
Suddenly, my very personal  journey seemed relatable, especially to women with breast cancer. I thought if my journey motivated others to create their own, unique digital shrines of self' to capture special moments when they needed extra emotional healing—then I wanted to be part of that.
In April 2019, I curated a unique art installation using my pictures, along with video, text, and interactive social media, called "Altered States of Beauty" in Denver, Colorado. Exactly two years after I was first diagnosed, and five months after finding out that the disease had metastasized to Stage 4 terminal breast cancer.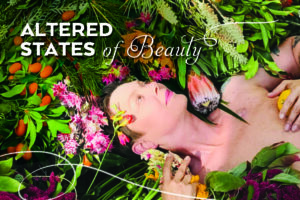 I live with that cruel prognosis now—and the prospects of survival are not hopeful—but the work remains as a marker and maybe an inspiration for other women to seek solace, strength, hope, and joy during their journeys.
My ultimate goal is to motivate others to create a special space for themselves, whether private or public, and to go deep with their feelings without reservation or fear of judgement. Breast cancer is often associated with loss, grief, and shame. The body is literally decaying. Disappearing.
I feel that by exploring the relationship between photography, social media, and  self-awareness, can help fill the negative space created by the cancer.
By honoring my individual, true essence, and beauty, even as I accept the disease ravaging the body, I am eternally grateful to have this opportunity to share my personal journey. I pray that my words and images inspire and transpire into a sacred world beyond physical beauty.
Here are some memories from Silvana's art installation in Denver, Colorado:
Click on the first image to view in gallery mode.
About the Author: To learn more about Silvana Vukadin-Hoitt and her art therapy/interactive social media project, visit about.me/silvanamondo.