Learn how author Crystal Blue found strength through the written word by building a life-changing bond with a group of women also searching for healing after trauma. Crystal re-tells her story about how she found purpose after pain while dealing with her PTSD and anxiety. Women really are amazing and together we are even stronger. Community is everything. We hope you enjoy this personal reflection about a passion project that is helping many, many women.
"The Story Behind the Story"
By Crystal Blue
At first, I really had no idea what I was doing.
All I knew was that I had a very strong feeling, a push (or maybe a pull) to write about my experience with PTSD (Post-Traumatic Stress Disorder) so that I could let others know that it does get better. I thought that if I could help just one person through writing my story, the pain would have a purpose.
When I started to really sit with the idea of writing a book, I was overwhelmed. There are so many moving pieces and commitments and deadlines and investments. Yet, even after dismissing the idea and putting it aside for a while, it kept resurfacing in my mind, and in my heart. It just wouldn't go away (which I suppose is why it's dubbed a "calling").
I wanted to give my experiences a positive purpose—because I learned that it is possible to be happy after experiencing trauma.
As I started to revisit the idea of writing my story, I realized that there was an even bigger purpose. My intention was to inspire others… to reach others and give them hope through challenging times. To encourage and empower.
In that moment, it was clear:  This is not just about me and my story. This is about women rising and supporting each other. This is about healing the world. One chapter at a time. And so, the journey began…
The Missing Piece of the Puzzle
The anthology unfolded on its own. It essentially birthed itself into this world, guiding me to the right people at the right time. It was as if this was all being orchestrated according to some Divine plan. I was in awe.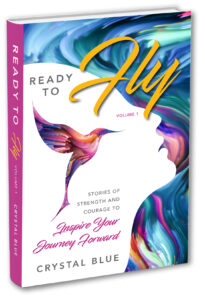 I honestly had so much doubt about how and if this idea would actually work, but there I was, only months later, with 15 other women, writing the first Volume of Ready to Fly.
The experience was deeper than I ever imagined. It had been over 15 years since I had been diagnosed with PTSD after witnessing my roommate's suicide… and yet there were times when it felt like only 15 minutes or 15 days had passed. The thing about PTSD is that you can be easily triggered into not only seeing the memories of the trauma in your mind, but you also feel the same emotions and your body essentially relives the trauma. Every. Single. Time.
When PTSD is triggered, it feels like everything inside your body is chaotic and spiraling and being ripped apart. For me, this is analogous to a violent tornado within a hurricane after an earthquake, right before a blast of toxic radiation.
For many, the aftermath is parallel as well. A path of desolation remains. A kind of numbness that goes deeper than the darkest depression. A scorched land that is unable to sustain life. These cycles led me to redefine PTSD as "Paralysis, Terror, Shame and Despair".
During the writing process, I was sucked into these cycles once again, being triggered by the memories that I was capturing on paper. Reliving the trauma by reliving the trauma. The tools I had learned were not working. I became angry and irritable. I cursed my life and everyone in it. How would I get through this project if I couldn't keep it together? How could I lead a group of women if I could not even write my own story? So, I decided to quit. I can't do this, I thought. This is too difficult and painful. I can't possibly relive this again. This was a mistake.
My connection with the women in this project ultimately inspired me to keep going.
While I was able to find endless words of encouragement and support for these authors as they were also struggling with the emotional pieces—I heard myself saying, "Remember why you started. Remember your strength."
The words resonated deeply within me, and I listened to my own advice. I knew I couldn't give up. I just needed to reconnect to my purpose.
The whole point behind this project is to help others through sharing our experiences and lessons and wisdom. I was determined to finish writing my story. I was determined to heal this wound once and for all. Perhaps this writing journey was part of that path.
The only mistake was actually thinking that I was "done" with my healing journey. For a time, I felt like I knew my story and how it would end. I discovered that the book was yet another piece of the puzzle.
As I was writing about the various healing paths I explored, intentionally or by chance, I knew there had to be more to learn. I started researching and reading more about PTSD and Somatic Psychology. I read about TFT, EFT, NeuroSculpting, and EMDR. The latest tools and resources for processing trauma were fascinating. I was intrigued and willing to try anything at this point to help calm the storms. I opened myself up for more healing. I surrendered to the unknown and possibilities. I let go of the idea that I was "done" with my story.
A few weeks later, I noticed a drastic difference.
My anxiety was under control.
My body was calm.
My mind was clear.
So, I went back to my computer to finish my story. Not only was I able to read through it and complete it without reliving or feeling the trauma, I was able to include this latest healing experience as part of my chapter. It was all coming together.
Maybe this was always part of that Divine plan?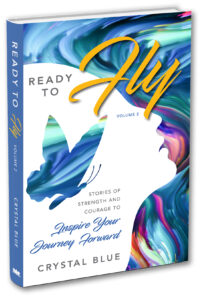 About the Author:
Crystal Blue is the Creator and Publisher of the award-winning anthology series, "Ready to Fly: Stories of Strength and Courage to Inspire Your Journey Forward." She supports, inspires, and empowers women to speak, write, and live their truth. You can support or participate in this project by visiting readytoflybook.com. 
Editor's note: If you enjoyed Crystal's heartfelt story, check out our other Passion Projects and Personal Stories. We'd also love for you to post your comments below. Please let us know what you think and if you have a story to tell, contact us.