You've likely heard about the benefits of eating anti-inflammatory foods for overall health. But, did you know they're important for your heart and arteries? Registered nutritionist Lianne Phillipson shares her tips (and yummy recipes) so you and your family to eat healthier.
"Anti-Inflammatory Foods For A Healthy Heart"
Every cell in our body needs a variety of nutrients to be healthy.
Our cells are so prone to damage from pollution, stress, exercise, and poor diet, which can lead to disease—so protection is key. Antioxidants that include vitamins A, C and E and the minerals zinc and selenium play a huge part in healthy cells and are instrumental in putting out the fire of inflammation.
There are also plant nutrients called phytonutrients that come from bright and colorful fruits and vegetables. That's why eating intensely colored blueberries, blackberries, strawberries, beets, and greens—like broccoli, chard, and kale—are off the charts for plant-based antioxidants. Keep in mind, plants also contain nutrients that haven't been given a name yet.
Anti-inflammatory foods for your family
Choose bright orange sweet potato over regular white potato (or make a salad with nutrient-packed spinach, arugula, red, yellow or orange pepper, grated carrot or beet) and pile it all onto half of your pate to add a dose of powerful antioxidants, fiber, and nutrients to every meal.
Remember, when you are consuming more antioxidants, you can increase your intake of good fats from oily fish, nuts and seeds as they have an easier job of helping decrease inflammation. In my new book, I break down the different kinds of fat and review the benefits of anti-inflammatory foods:
"Both saturated and essential fats are important, but saturated fats are easier to get in an everyday diet. Omega-3 and omega-6 fatty acids take more thought to include but are worth the effort, as they are important for brain, nerve, and eye development; alertness; IQ; energy; skin condition; and heart function. Omega-3 and DHA help improve memory, ease hyperactivity, and aid concentration, and can help ease depression. Options to include are tuna, herring, mackerel, sardines, salmon, cod liver oil, walnuts, chia, and flaxseeds. Omega-6 helps increase metabolism, stamina, and energy and alleviates dry skin. Options to include are flaxseeds and sunflower, pumpkin, and sesame seeds and their oils." -Excerpt from Sprout Right Family Food
Up your fish intake
After assessing thousands of peoples' eating habits and food diaries from my clients, I have yet to see a healthy trend of consuming fish 2 to 3 times a week. As a result, I am constantly reminding people to include more fish in their weekly meal plan.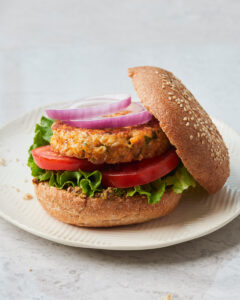 However, since many people don't know how to incorporate fish into their diets, I like to share quick and easy recipes such as Salmon Burgers. So healthy! So yummy! They are also fast to make, prepare, and freeze. In fact, Salmon Burgers are a staple in my house. My daughters' friends come over and ask me to make them all the time because they love them so much. They are excellent in a lunch the next day, on a bun, or alongside a large spinach salad with Winter Sunshine Salad.
Tip: Salmon Burgers can be eaten with or without a bun, however, I always suggest that you top them with antioxidant rich greens, tomato, and red onion.  Also, serve with a Beet and Carrot Slaw with Ginger Sesame Dressing. And, they're also freezer friendly, so make a batch or two! 


LIANNE'S HEART-HEALTHY RECIPES

Salmon Burgers 

Dairy-free, Egg-free, Gluten-free, Nut-free, Wheat-free

Serves 8

What's needed:

4 cans (5 ounces/150 g each) skinless, boneless salmon
½ cup (125 mL) green onions, thinly sliced
½ cup (125 mL) old-fashioned rolled oats
⅓ cup (75 mL) chopped fresh parsley or cilantro
¼ cup (60 mL) mayonnaise
¼ cup (60 mL) Dijon mustard
2 eggs, lightly beaten
2 tablespoons (30 mL) fresh lemon juice
1 tablespoon (15 mL) virgin coconut oil
8 whole wheat hamburger buns

Toppings (optional)

Lettuce
Sliced tomatoes
Sliced red onion
Avocado, pitted and peeled

How to make:

1. Mash the salmon, onion, oats, parsley, mayonnaise, mustard, eggs, 
and lemon juice together in a large bowl until combined.

2. Form into patties that are about 2 inches (5 cm) in diameter. 

3. Heat the coconut oil in a skillet over medium heat and pan-fry the patties 
for 5 minutes on each side.



4. Serve on a whole wheat bun and top with lettuce, tomato, onion, avocado, 
and any additional desired toppings.



Nutritional Information
Salmon is high in protein and omega-3 fats. The oats are a slow-releasing carbohydrate; 
which are a great source of B vitamins and iron. The more colorful toppings you use, 
the more antioxidants your burger will provide.

Beet and Carrot Slaw

2 cups (500 mL) grated carrot
1 cup (250 mL) kale, stems removed and finely chopped
1 cup (250 mL) grated red beets
½ sweet red pepper, seeded and diced
1 tablespoon (15 mL) finely chopped red onion
1 tablespoon (15 mL) chopped green onion

Ginger Sesame Dressing

½ cup (125 mL) apple cider vinegar
¼ cup (60 mL) olive oil
1 tablespoon (15 mL) liquid pure honey
1 tablespoon (15 mL) sesame oil
1 tablespoon (15 mL) finely chopped fresh basil
2 teaspoons (10 mL) ground ginger or 
1 tablespoon (15 mL) fresh ginger, peeled and finely chopped
1 teaspoon (5 mL) tamari (wheat-free soy sauce)

How to make:

1. To make the Beet and Carrot Slaw, combine the carrot, kale, beets, red pepper, 
red onion, and green onion in a large bowl.

2. To make the Ginger Sesame Dressing, whisk together the apple cider vinegar, olive oil, 
honey, sesame oil, basil, ginger, and tamari.



3. Pour the dressing over the slaw and toss.





4. Cover and refrigerate for at least 1 hour before serving.



Nutritional Information
This slaw is a great source of phytonutrients and vitamins, including vitamins A and C.
Want to try this recipe at home? Here's the downloadable Salmon Burgers recipe.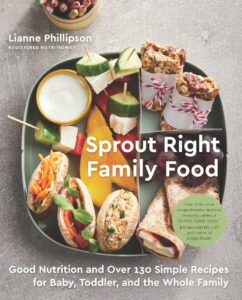 About the Author:
Lianne Phillipson is a registered nutritionist, best-selling author, podcast host, and speaker. She's a nutrition expert on NewsTalk1010 radio, and her podcast, Eat This, is part of the iHeart Radio network. Lianne is raising two healthy daughters in Toronto, Ontario; and she helps thousands of health-curious people make healthier choices, one mouthful at a time. For more info, visit  and liannephillipson.com.
For more healthy recipes for your family, visit sproutright.com and check out Sprout Right Family Food on Amazon for over 130 delicious recipes that range from smooth and chunky purées for babies, to energy-packed meals for toddlers.