Most of the women who share their stories with RedLily® are looking to find solace and healing, but Charlotte Wussow has found even more—HERSELF. Read her inspiring story about how two angels, a little self-care, and her personal fitness journey literally saved her life. Charlie, as she goes by, was always destined to do amazing things; but now she is positioned to make a difference in even more people's lives. We are honored to share her incredible story of survival with you. 
"How My Fitness Journey Helped Me Survive"
Growing up, I struggled with my sense of self-worth. 
At the age of 16, I entered my first significant relationship. It was physically and emotionally abusive. This lasted from age 16-20. However, I don't look at myself as a victim, and I never did…
I don't believe that I deserved it—not at all. I just never believed that I deserved anything more. I don't dwell on it. I don't speak of it. People would not expect it of me. It has never been an outward expression of who I am, but I now know that my lack of self-worth at the time helped shape me into the person I am today.
The day my life changed
One day after being beaten I was lying on the floor. He had left and two women lived downstairs. They were friends of ours and those two women helped me leave that relationship that day. They picked me up and gathered my belongings, and told me I was leaving for good. They drove me to my parent's house and told them what was happening. They helped me stand up for myself, when I couldn't. Those two amazing women gave me their strength that day, and I will forever be filled with gratitude.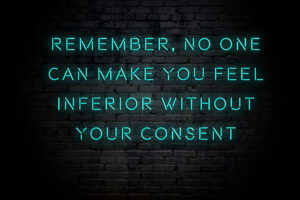 You might think from all of this that I am the type of person who is weak and shy, but you could not be more wrong.
It's all about self-care
I have always had a joy of life and a sense of adventure. I appear confident and strong, and I spent many years trying to match my inner self with the exterior presentation. Relationship after relationship ended with men leaving me for other women; and I felt less beautiful, less skinny, less desirable, less strong, less worthy, less…. everything.
When I reflect on my life, I look at how far I've come so I can share with other women in similar situations. I always wanted to become an ER nurse, so I did. Then at 21, I got married and had children. Fifteen years later, I divorced when my husband became involved with another woman.
I finally left him after a lot of mental and physical prep, and the help of two angels on Earth. At the time, I was depressed, overweight, and sedentary—and lived on takeout fast food. I also smoked a pack of cigarettes a day. Although I don't think I was ever truly happy in that relationship, how it ended sent me right back to that place of unworthiness.  I was filled with anger, but most of that anger was at myself for not believing I was good enough for more to begin with.
A turning point
At work one night, I developed chest pain. When it didn't resolve, I had a heart tracing done, and it showed a right bundle branch block—the start of cardiovascular disease. This was the catalyst to my fitness journey. So, I quit smoking and started going to the gym. Every time I had a craving, I hopped on that treadmill. How I hated it then, but I made a choice to live for my son. It was even more important now that I had begun my new life as single mom.
Over time I grew to love it. I became stronger and continued working on my inner strength. I ended all negative relationships in my life, even friendships—and I only associated with people that I aspired to be like; those people who made me happy, supported me, and lifted me up like those two women way back then.
Eventually, my confidence grew and I felt more deserving of who I was becoming. I started taking fitness challenges and had some exposure to weight lifting. Then I joined martial arts and was loving my new life.
One day I was asked to become a fitness instructor at our local gym by one of the trainers—it was a barbell class which I had never touched before. I decided to go for it. I started teaching classes and empowering women to be strong and confident in who they were. This was the start of my fitness career.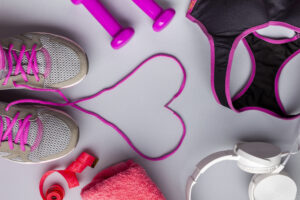 Time passed and in my 40s I remarried; but this time someone who saw my worth. He wasn't my usual type.
We were friends first and met scuba diving. We shared so many interests and he brought laughter and fun to my life, and still does today. I am proud to report that I have continued my self-development even today. I practice affirmations and listen to meditations. (At first, the words were just words, but I said them anyway, and I started to believe in myself.)
And thankfully, those words started to become much more.
The next step in my fitness journey
At 48, I became a black belt in Taekwondo and entered my 1st bodybuilding competition. Although I knew I was physically fit, part of me still doubted that I could ever be strong enough to compete on stage. But the good news was that at this point I had built enough confidence to at least try.
My first fitness competition gave me even more self-confidence. Confidence that I needed to keep going—so much so that at 49, I booked a photo shoot with world-renowned beauty and fitness photographer Paul Buceta.
I listened to self-meditation guides every night for a month before the photo shoot—on everything about how to feel confident and beautiful. I kept listening to tapes and telling myself: "I am beautiful like the girls in the magazines…" I just didn't believe it until I saw the photos.

Truth be told, I still struggled with internal dialogue, but I am much better at shutting it down and re-directing it now. But during the photo shoot, I felt like I was faking it. "Fake it until you make it," I kept thinking. "I'm not one of those beautiful women in the magazines," I continued to tell myself. Then esteemed photographer Paul Buceta showed me an image on his camera, and I was shocked.
I broke down in tears as I saw my beauty through another lens, a far less critical one; and in that moment, I embraced me. All of me.
My imperfections, my flaws, my strength, and my beauty showed that day. And, I finally admitted that I loved all of me, completely. That day I realized who I was meant to be. My 50th birthday present, I gave myself the gift of another photo shoot, and I became a 2nd Dan in Taekwondo.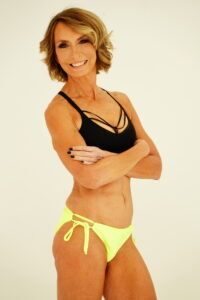 Now at the age of 51, I know that fitness has changed my life forever. Not only has it transformed me physically, but it gave me my self-confidence back. Some days I still falter, but they are few and far between. Each day forward gives me more strength and confidence than the day before.
Lessons learned
The moral of this story is that I am so grateful for my life, and I want to share my story to inspire other women. I am so excited about my life's direction now—and don't harbour any feelings of resentment. I not only forgive the people in my past, I actually thank them.
If those events never happened in my past, I would not have become the person I am today. I became a black belt so that I would never be defenceless again—and I built strong muscles through weight lifting so that I wouldn't feel weak again.
I became that beautiful fit woman in a magazine, because I finally believed it to be true.
Manifesting my new self
I truly believe that we attract what we think, and we have the choice to change it. It is a conscious decision to own your own power and to believe that you are deserving. To step into the life you were meant to hold. My only regret is that it took so long to see that. I finally realized, not only did I deserve goodness, but I actually earned it—and I no longer need the strength of others. That's why it is with gratitude that I can now say I have an abundance of strength to lend.
I hope that my story gives others the strength to choose their direction—and to push out those doubts and insecurities and to change their negative self-talk. To borrow my strength until they can find their own.
I became a personal trainer and certified nutrition coach, opening Charlie M Fitness to share this gift with others. I hope to give other women the opportunity to love themselves again through fitness and to believe in their worth. To  step into the life that they truly deserve. This is my passion and my purpose.
Thank you for listening,
Charlie
xo
About the Author:
Charlie Wussow is a mom, fitness enthusiast, physique model, and adventure seeker in Nanaimo, British Columbia, Canada. Her mission is to practice what she preaches in her work and personal life. She stays active with her husband by scuba diving and taking Taekwondo classes. Charlie is also a critical care nurse who works in the ER; and the owner of Charlie M. Fitness. She has overcome depression, obesity, feelings of abandonment, and self-confidence issues through hard work in the gym and working on her self-care. She is fabulous at 51 years old! For her longer bio, visit Charlie's contributor page. 
Editor's note: To view more incredible photos from Charlie's photo shoot in her 50s, scroll below. All photos were taken by Toronto's Paul Buceta. If you enjoyed this personal essay, click on our other stories in RedLily's Food + Fitness and Healing sections. We also want to hear from you! If you have an inspiring tale to tell our readers, please submit your story. 
Click on the first image to view in gallery mode.