Having worked in media for 25 years, I've learned first-hand the importance of showcasing the best version of yourself. It's all about evolving your professional journey and knowing where to pivot when you need to. Over the years, I have witnessed women overcome many trials and tribulations: at work, at the gym, and on the home front. As a result, I am eternally grateful for the opportunity to share pertinent "struggle to strength" messages to various audiences today. Read along as I share my personal experiences in work and health – as well as practical tips to evolve your professional journey. It's time for you to reach your untapped potential.
"How to Evolve Your Professional Journey"
I've worked in the health and fitness industry ever since graduating from journalism school in my early twenties. My first magazine job was catapulted by my first "real" boss, world-renowned fitness and bodybuilding publisher Robert Kennedy (who has since passed). I started my professional journey as the assistant editor of MuscleMag International, and shortly after, Bob asked me to launch an international men's title under his direction. Of course, I said yes!! 
Staying focused
After months of editorial strategy and brand planning, I happily became the editor-in-chief and founding editor of the industry's first celebrity fitness men's publication, American Health & Fitness magazine. I traveled around the world and spent my time between Toronto and Los Angeles – loving every minute.
When an opening came up on the women's content side, I swiftly moved into the sought-after position of editor-in-chief of Oxygen Women's Fitness and was charged with overseeing the entire women's fitness category. Believe me, if there's one thing I know for sure, it's that hard work, drive, and determination are attributes that will get you noticed in the media and publishing world.
Dreams do come true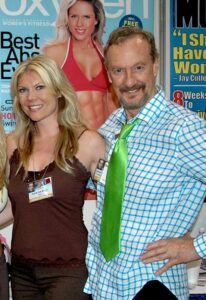 After over two decades working in print journalism and the corporate world, I aim to shape my message in the best way I know how, which is expertly utilizing my skills as a global journalist to further my business aspirations and professional journey.
I also spent five years as a senior communications executive and spokesperson at an international mind/body company where my creative management skills, media relations, brand building, and digital experience came in handy.
Twenty years later, I am extremely proud of my portfolio collective and now work with a variety of high-end clients in Canada and the United States. I also serve as a heart health ambassador, writing mentor, editorial consultant, public speaker, and author. Read my mission about educating women on the importance of heart health.
My 10 tips for success in the creative industry:
1. Trust your inner voice during your professional journey.
2. Find a mentor and learn as much as you can. Spend time observing.
3. Set goals and attain them, then start a new list of to-dos.
4. If you work in the creative industry, start building your brand.
5. Always learn from your mistakes; never blame your colleagues.
6. Write, write, write! Hint: I turned my journal entries into a book!
7. Take opportunities in stride. Something good will come from them.
8. Accept where you are in your career and realize each step matters.
9. Figure out where you want to go in your profession and work towards it.
10. Build a portfolio. Keep a copy of your articles and on-air clips.
Taking a risk and turning a pivotal corner
Sometimes change is GOOD. Really, really good! The decision to leave my former editorial roles for a few years came at the perfect time when the magazine world was shifting from print to predominantly web-based publishing. My "corporate" experience has aided me in landing new clients and working with established brands who are also evolving with the times.
Eventually, I returned to media as the executive editor of Today's Parent magazine at the national conglomerate, Rogers Media. I still credit my tenure at these first publications as the building blocks for my entrepreneurial endeavours today. Note: If you're interested in working with me on a consulting or per project basis, contact me anytime. View my portfolio. 
Someone saw potential in me and took a chance on my fresh-out-of-school skills. With a passion for writing and creating pertinent messages, I was able to gain credible experience doing what I loved to do.
The next step in my evolution
Fast forward a few more years and I've since published a book about my unexpected health struggles. I'm also working closely with high-end clients in the areas of education, real estate, luxury lifestyles, travel, and fashion. In addition, I've launched my own proprietary lifestyle brand and storytelling platform to help women share their stories in their own words.
In other words, I am still doing what I love… only now it's with a slightly different focus which is to make an even bigger difference across the world.
It's no secret that health and fitness content is in my blood. I also believe that women can discover their untapped potential at any age or life stage. This is super important to me. I've always had an innate desire to help women live happy and healthy lives. Today, my RedLily mandate helps me help others.
If you haven't signed up for my newsletter yet, please do. And, again, if you'd like to submit your story on my storytelling website, I'd love to hear from you!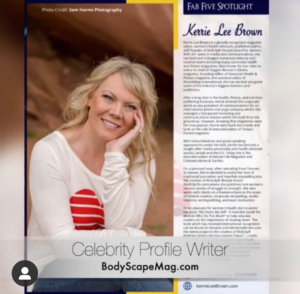 Everything comes full circle
A year ago, I was contacted by my long-time friend, fitness icon Monica Brant. Knowing my fruitful background in health, fitness, and writing VIP profiles, Monica wanted to introduce me to the lovely Sarah Lyons, founder of PictureGroove Photography and Epic Destination Shoots, and publisher of BodyScape Magazine. I couldn't believe how the universe was pulling me back to physique magazines. Today, I am their exclusive Celebrity Profile Writer.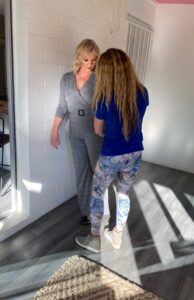 Furthering my professional journey
The truth is that any chance I get to work with inspirational female entrepreneurs – I'm all in. The bonus this time is that I get to immerse myself in even more "real-life" success stories, while also promoting my bliss business. My recent collaboration with recognized photojournalist Sarah Lyons has been a wonderful experience so far – and a great next step in continuing the evolution of my professional journey.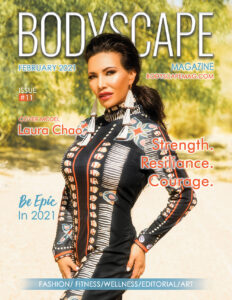 As BodyScape Magazine's Celebrity Profile Writer, I write the magazine's cover stories each issue; as well as contribute a column called "Kerrie's Corner" where I share my wellness tips and tricks.
All of the women who I've had the pleasure of interviewing to date have incredible stories; and I am honoured to turn their experiences into magic on paper alongside Sarah's stunning photography.
As if you can't tell, women supporting women is high on my radar these days. Any time I can meet and connect with new people, I feel like the world has opened a new door. Recently, I was fortunate to interview the sensational Annieca at a shoot before penning her profile; and I also had the chance to get to know the beautiful Dr. Sarah Gueli before her feature went to press. These are the personal experiences that I now cherish. Check out these ladies' profiles and so many others here. You never know, maybe one day I will interview you and write YOUR cover story.
*For updates on what I'm doing next and to view my media appearances, check out my social channels and don't forget to Subscribe! Also, find out how you can become a RedLily contributor. 
Expand your brand with AMAZING photography
SPECIAL ANNOUNCEMENT
I will be in Sedona, Arizona on September 17-19, 2021 with PictureGroove Photography interviewing potential cover models about their dreams, aspirations, and what they've overcome to get where they are today.
Come join us!

In closing…
Now that you've gotten this far, I hope you'll take some time to reflect on your own journey. My advice? Believe in your talents and aspirations because you can achieve your goals if you stay positive. I am living proof.
I just want to help women in the best way I know how. That's why I participate in projects driven by female entrepreneurs who believe in promoting "real" women. Read my founder's message – and don't forget – you can become a recognized contributor on my storytelling platform. Again, my mission is to share women's heroic stories of struggle to strength.
I started RedLily because I know what it's like to want to make a difference in people's lives. I also know that your beautiful, complicated, experienced self deserves to be given a safe, community-oriented platform.
All women have stories with teachable moments. I promise that yours will make a difference in some way. If you'd like to read my BodyScape Magazine cover stories to date, you can order back issues anytime. Writing these features is my way of giving back to an industry that I love and know so well.
Until next time,

Kerrie-Lee
xo
About the Author: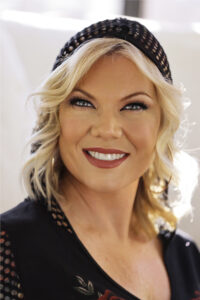 Kerrie Lee Brown is a heart-health advocate, business coach, speaker, mom of two, and creator of RedLily®. To read her full heart story which includes 10 Signs You Need to Slow Down, check out her book on Amazon. Also, find out why she created this platform for women just like you! Connect here:
Email: [email protected]
Instagram @KerrieLeeBrown
Instagram: @redlilylife
Facebook: @KerrieLeeBrown (author)
Facebook: @redlilylife
Websites: www.KerrieLeeBrown.com
CALLING ALL REDLILY CONTRIBUTORS & BUSINESS OWNERS!
Work with me!! If you'd like to engage in my consulting or content services, email [email protected] to find out more. And, if you'd like to become a brand partner with RedLily, email [email protected] to learn more.
Watch this video about RedLily's purpose: