For most people, change is scary—especially when you've been pushed out of your comfort zone (and time zone) in order to survive. Women's health author and advocate Kerrie Lee Brown reveals how change can actually be healing when you open up to new people, places, and things. This insightful piece on an unlikely equine therapy session was written under a tree at a beautiful ranch in Colorado. We encourage you to reflect on your own life experiences of change and perseverance; and share your story with other like-minded RedLily® heroes.
"Embracing Equine Therapy"
By the publisher,
Moving from Toronto, Canada to Denver, Colorado was a huge decision. At the time, my husband and I needed a change of scenery and the professional opportunities were attractive to say the least.
My husband's new job required him to leave Canadian soil immediately. So he did, leaving me and our two boys back in Ontario nine months before we made the trek ourselves. This was a mutual decision that was best for our family at the time. I could finish work; the boys could finish the school year and their sports; and he could settle in a new country preparing for our arrival. What transpired next is where the real learning took place…
It wasn't the 3000 miles between us that was the hardest part. It was the fact that everything we knew was now old and we were faced to "start over" in a foreign place. Who knew a single equine therapy session would be the catalyst for my personal healing journey once we moved to the Mile High City?
No family or friends around to help with the kids, and I was forced to take a step back in my career while we worked through the immigration red tape. The excitement was indescribable, but so was the adjustment for us all.
It's no secret that since moving to Colorado, I've had a tough time personally. My mother passed away unexpectedly six months after we moved, and my mother-in-law passed two months later. We were away from our family and friends during a very difficult first year, and I was starting to doubt our new residency.
My hands were also tied with respect to working in the U.S. for a period of time, so I had to figure out who I was outside of what I did for a living. The only thing I could think to do was put a smile on my face and network. Which I did.
I was elated that the kids made friends easily, and settled into their school and sports. Children are way more resilient than we give them credit for.
As I started to meet new people (and new friendships started to form) I made the decision to explore what the Mile High City had to offer from a spiritual perspective. After all, we were in this beautiful state with the Rocky Mountains at our doorstep—so how could I not reach out and take advantage of the health and wellness resources?
From attending my first mind-body expo and spiritual healing workshops, to meditating in the mountains overlooking the pastures—I soon found my groove and started to feel myself again. One of the most interesting events was talking to a group of like-minded women while surrounded by horses.
Maybe there's something about Colorado that instills personal change as a result of the high altitude; or perhaps it was my inner voice telling me to push forward despite obstacles so I could take the next step in my personal evolution. But horses?? I never thought I'd see the day.
Embracing equine therapy
I guess I'm a lot more open-minded today about who (or what) I engage with to help shape the real me. Equine therapy is no exception. Here's why I say this…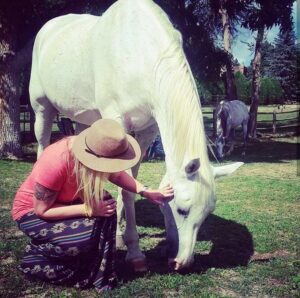 I had heard that horses bring unique energies and offer healing, but I was never around them growing up. So, one day I decided to sign up for a day-long course called "Striving Through Stress" which I thought was appropriately named.
As a health and fitness journalist for years, I have spoken to a variety of groups on the importance of work-life balance, but when I had a heart attack at the height of my media career, I instantly became a heart-health cheerleader overnight. My life's purpose was starting to percolate.
Despite being a women's health and wellness advocate, I realized and accepted that I still needed healing myself.
I was never around horses growing up, even though my sister co-owned one as a teen and worked on several horse farms. However, this horse healing adventure was calling to me. So, off I went, not knowing what to expect on someone else's property in the mountains. I had no idea that day would transform me as much as it did.
The horse farm was just outside the city. It was serene and peaceful. Not knowing the other women and realizing that within a very short period we'd all end up sharing a special bond through God's magnificent creatures—we were told to sit in a circle on our sun chairs while the horses grazed around us.
The ranch owner led our class in a spiritual meditation, and asked us all to tell our stories. Eventually the fear started to melt away. I felt a bit uneasy at first because I was not used to horses being so close, however, I felt rejuvenated at the same time.
One of my biggest takeaways was that horses have an amazing sense of calmness in their own setting and around people. We just have to be open to the calmness.
Every time we shared something that was on our mind, the horses would either move closer to us or glance our way. This was their way of showing compassion and empathy. Yes, horses can be empathetic! The horses instinctively know when we need consoling, acceptance, or a sign that everything will be okay. I thought that was nothing less than magical.
What did I learn?
The entire experience was incredibly moving—leaving me at peace in my own skin. I had changed again, but this time of my own doing. Not from a materialistic or logistical manner, but from the inside-out. And despite the fact that I am still healing, the feeling of control over my mind and body has remained with me ever since.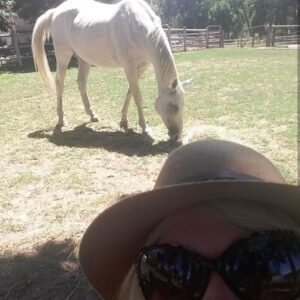 I learned that you are never too young, too old, too inexperienced, too afraid, or too broken to receive love and support from strangers or animals that may also feel your pain.
It's all about health & healing
Our fears come out in different ways and so do our emotions, but we must push them aside in order to heal and rise above. We all grow in our own time.
I also learned that we often believe the people around us change when big things happen—and that's what makes us confused or in a rut. But, newsflash my friends! If you have this feeling, you should probably look in the mirror. It's most likely you who has changed.
And lastly, I learned that forgiveness is the root to love and growth. We must learn to forgive and accept what is. You can't change others; they have to want to change themselves. You can only work on you because you are the one who has the power to alter your own existence—and in return, our energetic vibrations when we are with others will eventually change, too.
Namaste.
Kerrie-Lee
xo
About the Author: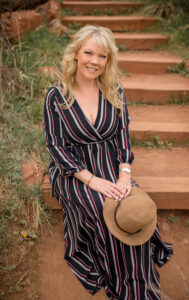 Kerrie Lee Brown is a women's health advocate, business coach, speaker, and mom of two. She is also the founder of RedLily®. To read her heart story, including "10 Signs You Need to Slow Down", check out her self-help book on Amazon.
You can learn more about her writing/editing services at KerrieLeeBrown.com and check out her new lifestyle product Heart which was uniquely formulated after her sudden heart event. Read Kerrie's 3-part heart story under Wellness. 
*If you liked this RedLily® entry, you may want to visit "Overcoming Self-Sabotage" in our Healing category or more inspiring works by Kerrie Lee Brown.